Peter Walker
Online
and welcome to my Web Site

Please click on the menu above to view details of my interests
My section Dorset Churches now contains over 400 churches 1,200+ interior photos. I have added additional information for each church. I have now added 225 other churches from around the country. The total number of church photos is now over 3,800.
If any links do not work please let me know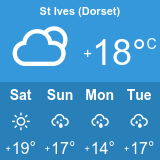 This site was last modified on 25 February 2022
You are visitor no.
Mobile-friendly site


Copyright © Peter D Walker